December 3rd, 2010 by
Scott
Simply one of the best Protagonists in cinema history.  Ever.  Ellen Ripley (Sigourney Weaver) in the movie Alien (screenplay by Dan O'Bannon, story by Dan O'Bannon and Ronald Shusett) is smart, tough, and riveting to watch.  And in Aliens (screenplay by James Cameron, story by James Cameron and David Giler & Walter Hill) we see all that toughness challenged not only by monsters, but by something Ripley struggles with on a deeply emotional level: her maternal instincts.
And all this, per the legend, in a role that began as a man.  That right there speaks to what I think is one of the most fascinating aspects of Ripley's character: the amazing range of her transformation over the four Alien movies.  Sigourney Weaver herself talks about that here:
I think what attracted me to Ellen Ripley was she… first of all, a character that was written as a man.  So it was written in a very straight-forward way, a kind of direct person where she didn't have these scenes where she's suddenly vulnerable, she didn't throw her hands up and wait for someone to save her.  She was a thinking, moving, deciding creature.  I think that was the other thing that interested me.  She went from someone who believed the world was a certain way to someone who couldn't believe in anything anymore.  And went from someone who's sort of a thinking person to someone who's kind of an instinctive animal, so there's lots of progressions in the character that I thought would be interesting to play.
You want a feel for those "progressions," check out this video compilation of all the different Ripleys from from all the different Alien movies:
Believe it or not, there is even a book on the subject: Gallardo, Ximena C. and C. Jason Smith. Alien Woman: The Making of Lt. Ellen Ripley. New York: Continuum, 2004. 241 p.  Here is some commentary on the book:
Gallardo and Smith's Alien Woman examines Ripley as a product of the ongoing construction of sex and gender in the four films. In their introductory material, the two point out that before Ripley, women in science fiction were primarily plot devices, typically undermined if they exercised any power whatsoever or showed themselves to be more than window dressing. The character created by Weaver and directors Ridley Scott, James Cameron, David Fincher, and Jean-Pierre Jeunet, however, is "born of the long and uncomfortable association between science fiction and horror… [combining] the survivor of slasher with the heroic astronaut of science fiction." Like many women before her, her scenes include "the requisite running and sweating, but she substitutes the shrieking of her predecessors for some understandable swearing, and, in the end, she vanquishes her foe on her own." In fact, according to Gallardo and Smith, Ripley stands alone as the enduring, self-reliant female protagonist of science fiction film.
But the beauty of their study is the evolution of the character from her introduction in 1979, to her demise in 1992 and resurrection as a clone in 1997. The authors point out how each director, along with his team of writers, had to reconsider the idea of the strong female protagonist, in light of the social, political, and cultural imperatives of the times. As such, Alien Woman can be seen as highly focused lens, through which, by viewing the changing idea of "a woman's place" and "women's roles" in one particular case study, readers can extrapolate a larger picture of both women in society and in science fiction.
But perhaps the Wikipedia entry for Ellen Ripley sums it up best:
Ellen Ripley is a fictional character and the main protagonist of the Alien film series played by American actress Sigourney Weaver. The character was heralded as a seminal role for challenging gender stereotypes, particularly in the science fiction genre, and remains Weaver's most famous role to date.
In 2003, Ripley was selected by the American Film Institute as the eighth greatest hero in American cinema history on their 100 Years… 100 Heroes and Villains list. Entertainment Weekly called the character "one of the first female movie characters who isn't defined by the men around her, or by her relationship to them".
Challenging gender stereotypes.  Not defined by the men around her.  All because someone had the bright idea to turn a guy into a gal.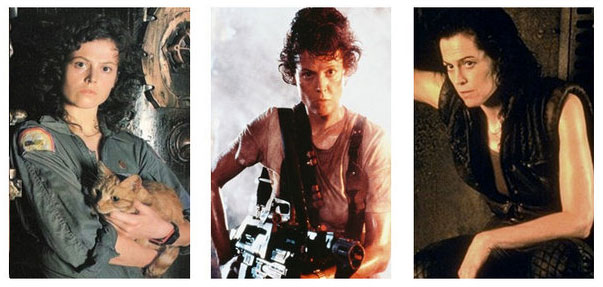 That may be the biggest single lesson screenwriters can take from Ripley's character: to take our own characters and explore their female or male aspects.  Or even gender-bend them.
Let's see more great female characters like Ellen Ripley.