April 13th, 2012 by
Scott
After a highly successful outing last time with the script for the movie Michael Clayton, up next is the excellent 1999 science fiction comedy Galaxy Quest, story by David Howard, screenplay by David Howard and Robert Gordon.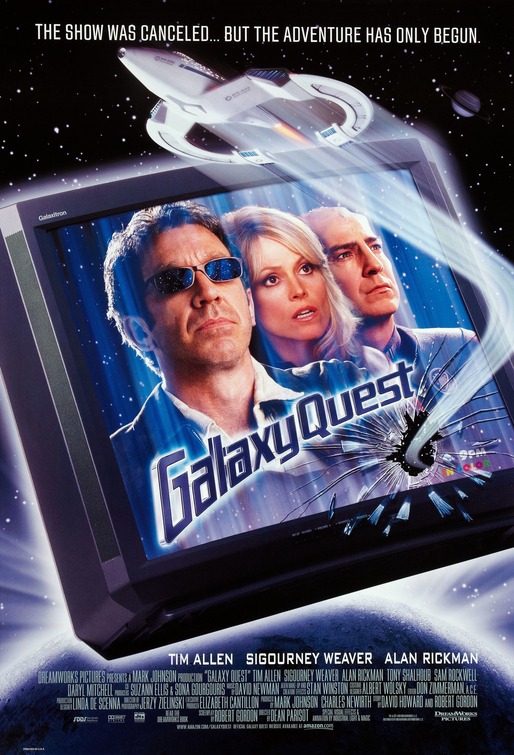 You can download the script here.
Our schedule for the week-long analysis:
Monday, April 23: General Analysis
Tuesday, April 24: Structure
Wednesday, April 25: Characters
Thursday, April 26: Themes
Friday, April 27: Dialogue
In addition, since it worked with Michael Clayton, we're bringing it back: The Simul-Tweet-Cast. On Wednesday, April 25 at precisely 8PM Pacific [U.S.], you are invited to push play on whatever device you have to watch the movie Galaxy Quest in real time with a host of others, all of us commenting on Twitter. We will record the Simul-Tweet-Cast to make it available as a transcript for later review. The transcript for the Michael Clayton event, which you can see here, has been accessed by hundreds of users.
As a special treat, professional screenwriters Tom Benedek, F. Scott Frazier, and John Gary will be participating in the Simul-Tweet-Cast, breaking down the movie as it plays. Hopefully we can wrangle a few more to join the fun, a nice opportunity for you to intersect with some pros.
This GITS Script Reading & Analysis series is a monthly initiative to get you to read scripts. Why? Because it's one of three crucial practices for learning the craft of screenwriting:
Read Scripts. Watch Movies. Write Pages.
You can access previous installments in the series here.
NOTE: THIS SERIES IS FOR EDUCATIONAL PURPOSES ONLY!
To give you a taste of Galaxy Quest, here is a clip:
By the way, if you find any articles, interviews, reviews and backgrounders on the movie and/or the writers, please post them in comments.
You've got 10 days to download and read the script for Galaxy Quest, a terrific movie. I'm really looking to reading the script! Hope you are, too.