December 28th, 2012 by
Scott
All hail Vulture for this:
Over the next few weeks, Vulture is talking to the screenwriters behind 2012′s most acclaimed movies about the scenes they found most difficult to crack. What pivotal sequences underwent the biggest transformations on their way from script to screen?
In this article, screenwriter John Gatins reveals a personal connection to a challenging scene in the movie he wrote Flight:
There's a scene in the stairwell at the hospital where this gaunt young man appears — the character's name is actually Gaunt Young Man — and he kind of takes the movie on a ride you're not expecting for seven minutes. I had a lot of screenwriter friends who read it and thought it was unnecessary, because the script was always long, but for me it was important. A working screenwriter should adhere to the idea that you can't just have the Oracle of Delphi show up and give you a seven-minute monologue and exit the movie — it's not supposed to work that way — but I put all that aside and said, "For some reason, this character is important to me."

—-

That scene has so much going on for me because the cancer that he talks about is the cancer that my best friend had — and my friend is a survivor, which is great. But it was a really intense period in his life and tangentially mine, too, so I kind of brought a lot of that to that character. In my everyday life, I'm not thinking about what I really believe and why I'm here and God or Allah or any of that, but I promise you that when tragic things happen, like someone getting gravely ill, you really do have to go through it in your brain to say, "Why do I think this has happened?"
Here is that section of the script: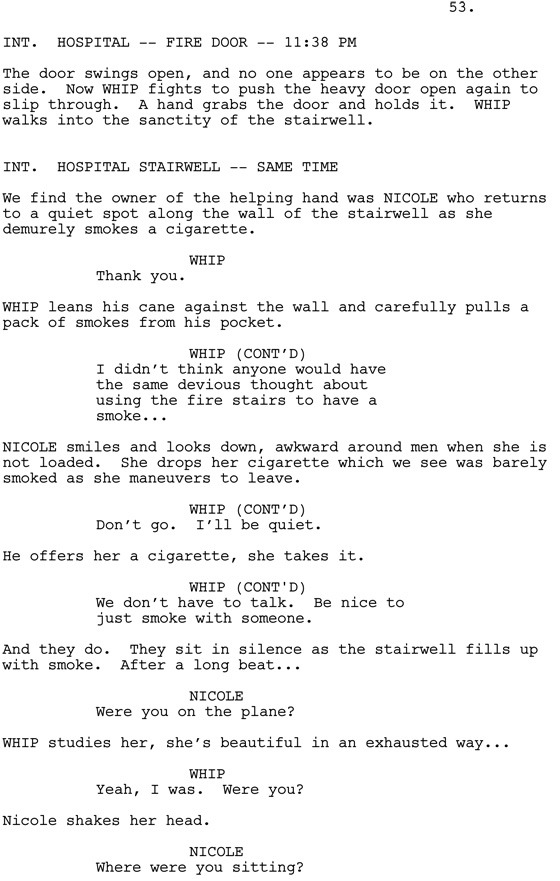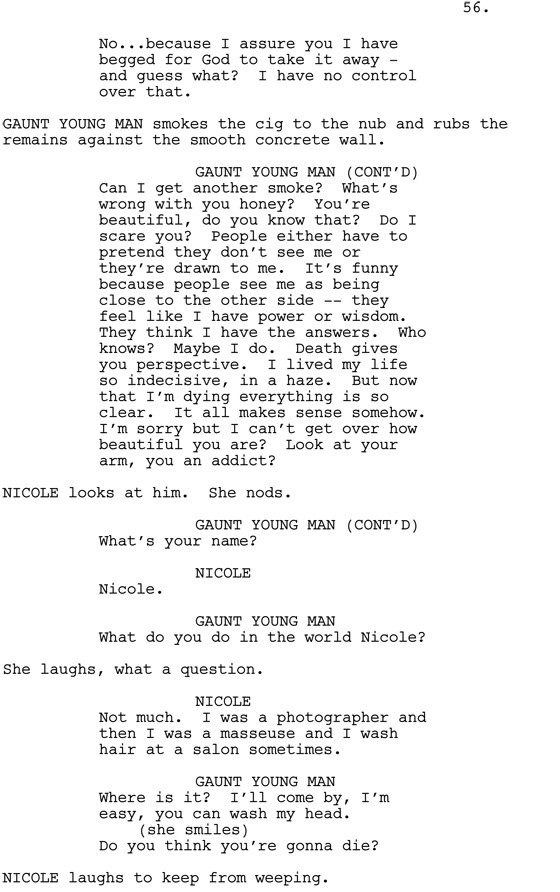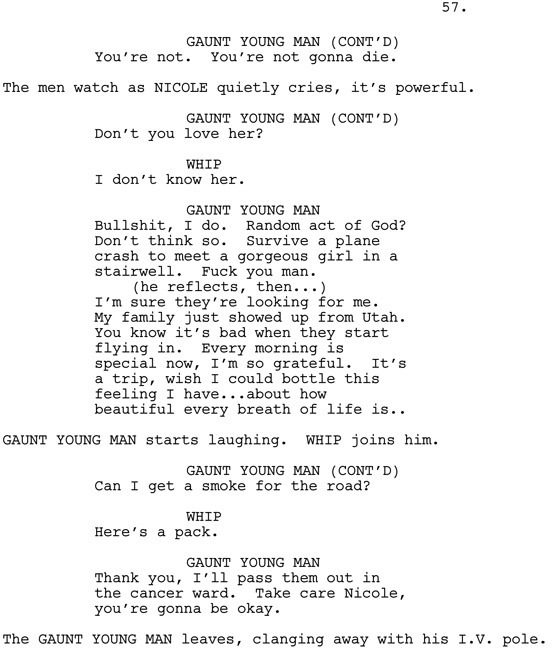 I often write about how important it is for us to find points of emotional resonance with the stories we choose to take on. Here Gatins reveals one aspect of Flight to which he was personally connected. Sometimes it can be that one scene to which we have deep intimate feelings that compel us to write the story and propel us through the process.
For the rest of the article, go here.