January 3rd, 2013 by
Scott
All hail Vulture for this:
Over the next few weeks, Vulture is talking to the screenwriters behind 2012′s most acclaimed movies about the scenes they found most difficult to crack. What pivotal sequences underwent the biggest transformations on their way from script to screen?
In this article, Beasts of the Southern Wild co-writer Lucy Alibar talks about a scene that was particularly personal to her:
It's the scene where Hushpuppy punches her dad and tells him that she hopes he dies, because the movie's so much about me and my own father. My dad had all these heart problems and I thought that it was because of me; that's why I originally wrote the play that the movie was based on, to work all that guilt out. As best I could, I wanted to finally come to terms with it and articulate what was going on in my heart.
Here is that section of the script: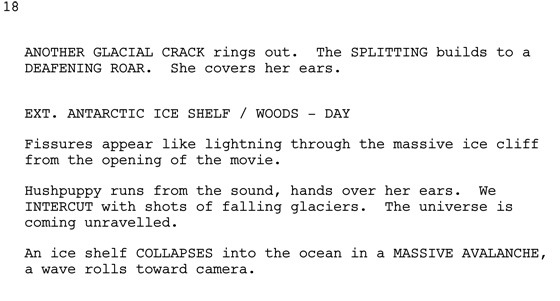 It is a refrain you hear writers convey over and over and over again: Write what moves you. Write something for which you have passion. Write something that has meaning to you. Want to know how this scene qualified for Alibar? Check out this quote:
I still cry when I watch that scene. It's definitely the hardest for me to watch.
For the rest of the article, go here.