December 12th, 2013 by
Scott
Today's Classic 80s Movie guest post comes from Zach Jansen.
Movie Title: Full Metal Jacket
Year: 1987
Writers: Screenplay by Stanley Kubrick & Michael Herr & Gustav Hasford; based on the novel The Short Timers by Gustav Hasford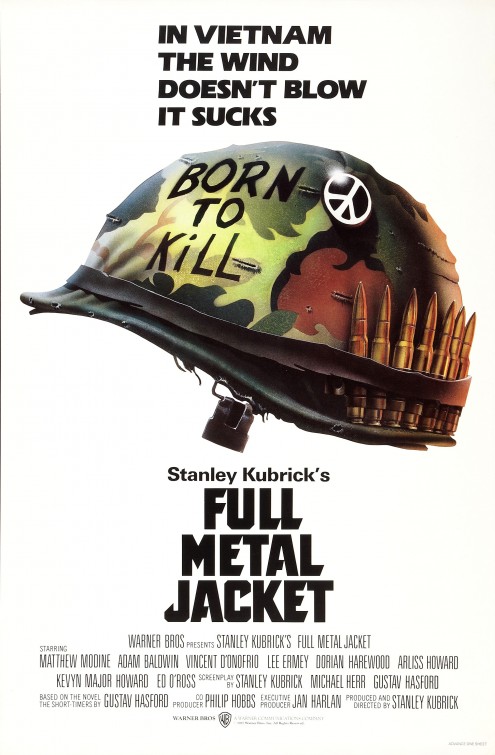 Lead Actors: Matthew Modine, R. Lee Ermey, Vincent D'Onofrio, Arliss Howard, Adam Baldwin
Director: Stanley Kubrick
Plot Summary: A pragmatic U.S. Marine observes the dehumanizing effects the U.S. Vietnam War has on his fellow recruits from their brutal boot camp training to the bloody street fighting in Hue.
Why I Think This Is A Classic 80s Movies: Two words: Kubrick and Vietnam. Sure, other filmmakers beat him to the punch, but what other movie that focuses on the Vietnam War showcased the urban war? Full Metal Jacket took a subject that was close to being cinematically done to death and turned it on its head. Vietnam was no longer a jungle, some rice paddies, and ocean: It was a semi-developed country with buildings and battles fought amongst those buildings.Of course, what most viewers remember about the movie is its hypnotic, tense, and incredibly symbolic first third where we see boys (symbolized by their hair) make their transition to men (the graduation ceremony) and beyond (the chilling scene in the "head"). Nothing seems real during these opening 40+ minutes, but nothing rings false. Credit Kubrick for being able to maintain that dichotomy, but an uncle of mine served in the beloved Corps in the late 80s and he once told me, "Don't worry: this movie doesn't even show the worst stuff." Take from that what you will, but for me, it makes the movie (and the basic training sequence) all the more compelling.
And on a personal note, I once worked with a guy who celebrated his 19th and 20th birthday in Vietnam and fought at Hue. He said that everything you see in the final half hour is about as accurate as you can get to re-creating what Hue was like — other than singing the Mickey Mouse song (humorous irony, he said, paled in comparison to the actual irony of being in country). To me, if someone who was actually there says a movie puts him right back in Vietnam, the film has served its purpose and is well worth seeing. And every time I watch the movie, I think of that 19-year-old kid and wonder, "Could I have done that?"
My Favorite Moment In the Movie: Honestly, it's difficult to nail down one moment that shines above a movie filled with memorable moments. Any scene with R. Lee Ermey is gold — and the whole basic training section is fascinating in and of itself and could easily be a short film on its own.But I'm going to go with the final sniper scene. Seeing Joker's change from as happy-go-lucky as one can be while Vietnam to a killer (albeit a remorseful killer) gets me every time. And keep on eye on how when Joker delivers the coup de grace, his peace sign button gets hidden. How's that for symbolism?
My Favorite Dialogue In the Movie: It's hard to not pick something that R. Lee Ermey spews, but I'll go with the final lines which have more resonance:
Pvt. Joker (V.O.): My thoughts drift back to erect nipple wet dreams about Mary Jane Rottencrotch and the Great Homecoming Fuck Fantasy. I am so happy that I am alive, in one piece and short. I'm in a world of shit, yes. But I am alive, and I am not afraid.
Key Things You Should Look For When Watching This Movie: Notice the triptych structure. The film is composed of three approximately 40 minute long acts. There's basic training section, the being in-country (including the Tet Offensive) sequence, and the Battle of Hue finale.
Also, keep an eye on the similarities between Private Pyle and Animal Mother, but note their differences as well — one is an example of a man expunged of his humanity and the other is a man suppressing his — and how Private Joker interacts with each (especially in the final basic training scene and the discovery of the sniper scene).
Thanks, Zach! To show our gratitude for your guest post, here's a dash of creative juju for you. Whoosh!
Tomorrow: Another Classic 80s Movie!
I'm still looking for people to write guest posts in this series. Please email me with the movie you'd like to cover. Here is a template you should use:
Movie Title

Year

Writers (both screenwriters and any authors whose books were used as the basis for adaptation)

Lead Actors (Just the main ones)

Director

IMDB Plot Summary (You can find that directly under the Your Rating box. If you don't feel the summary does the story justice, feel free to write up a logline of your own.)

Why I Think This Is A Classic 80s Movies (Feel free to write as much as you'd like up to a half-page or so.)

My Favorite Moment In The Movie

My Favorite Dialogue In the Movie (IMDB has a Quotes section for almost every movie, so you can find key dialogue in your movie's site.)

Key Things You Should Look For When Watching This Movie
Please use this exact template to help me in the editing process.
If you can find a YouTube clip from the film or its trailer, include that URL.
When you are done with your guest post, you may simply copy and paste the content into an email to me.
I will run the posts in the order I receive them.
And if you emailed me about doing a specific movie, but haven't sent in your guest post, now's the time!
Thanks, everyone!