July 22nd, 2015 by
Scott
Some of you probably saw this Den of Geek article from last week, but even if you did, I think it's worth the time to consider the way the spec script market used to be, back in the Go Go days of the early to mid-90s. To wit, this article: The fate of the $26m scripts Joe Eszterhas sold in the 90s.
That's right. $26M. That figure alone should give you some sense of what the hell was going on two decades ago. Studio money was plentiful. Hype was king. And spec scripts were a hot commodity. How hot? Consider this list of deals Eszterhas set up in a few short years as detailed in the article cited above. I have divided them into movies which got made and movies which didn't get produced:
One Night Stand: $4M
Made: Yes

Jade: $4M
Made: Yes

Showgirls: $3.7M
Made: Yes

Basic Instinct: $3M
Made: Yes

Sliver: $1M
Made: Yes

Reliable Sources: $2M
Made: No

Male Pattern Baldness: $2M
Made: No

Gangland: $1.3M
Made: No

Foreplay: $1M
Made: No

Original Sin: $600K
Made: No

Sacred Cows: $500K
Made: No
There was a point where Eszterhas was literally making multimillion dollar deals based on story ideas he had scratched onto a napkin over a lunch meeting. He was that hot. How did he get there? This:
Produced in 1992, Basic Instinct generated an astonishing $353M in worldwide box office revenues. I remember when the spec script went out. Here is P.1:
INT. A BEDROOM - NIGHT

It is dark; we don't see clearly. 

A man and woman make love on a brass bed. There are 
mirrors on the walls and ceiling. On a side table, atop 
a small mirror, lines of cocaine. A  tape deck PLAYS the 
Stones "Sympathy for the Devil."

Atop him... she straddles his chest... her breasts in his 
face. He cups her breasts. She leans down, kisses him...

JOHNNY BOZ is in his late 40's, slim, good-looking. We don't 
see the woman's face. She has long blonde hair. The CAMERA 
STAYS BEHIND and to the side of them.

She leans close over his face, her tongue in his mouth... she 
kisses him... she moves her hands up, holds both of his arms 
above his head.

She moves higher atop him... she reaches to the side of the 
bed... a white silk scarf is in her hand... her hips above his 
face now, moving... slightly, oh-so slightly... his face strains 
towards her.

The scarf in her hand... she ties his hands with it... 
gently... to the brass bed... his eyes are closed... tighter... 
lowering hips into his face... lower... over his chest... his 
navel. The SONG plays.

He is inside her... his head arches back... his throat white.

She arches her back... her hips grind... her breasts are high...

Her back arches back... back... her head tilts back... she 
extends her arms... the right arm comes down suddenly... the 
steel flashes... his throat is white...

He bucks, writhes, bucks, convulses...

It flashes up... it flashes down... and up... and down... and 
up... and...

EXT. A BROWNSTONE IN PACIFIC HEIGHTS - MORNING

Winter in San Francisco cold, foggy. Cop cars everywhere. 
The lights play through the thick fog. Two Homicide detectives 
get out of the car, walk into the house.

An attention-grabber right off the bat. Here is how Den of Geek describes the way the Basic Instinct script deal went down:
Originally entitled Love Hurts, it became Basic Instinct on the morning its auction effectively began, as the screenplay was sent to every production outlet in Hollywood. The plan was to try and get them to outbid each other, to drive the price up. The plan worked.

The auction started at 10 one morning. "By noon", as Eszterhas tells in his book, "we had offers up to $2 million." The eventual winning bid? Carolco's. It paid $3m to Eszterhas, and as part of the deal, it paid a further $1m to Irwin Winkler to produce the movie. "A New Era Dawns In Hollywood" read the subsequent Variety headline. And it wasn't kidding.
Agents sending out a spec at an appointed hour. Agents hand carrying scripts to buyers, then insisting they read the script while supervised by an agency rep. Specs sent out with kitschy items to generate heat, like ticking clocks for the script "Ticking Man" which ended up selling for $1M… and never getting produced.
Yep, it was a whole bunch of fun there for a few years with spec scripts as the hot commodity in Hollywood. And no one reigned over that domain more than Joe Eszterhas.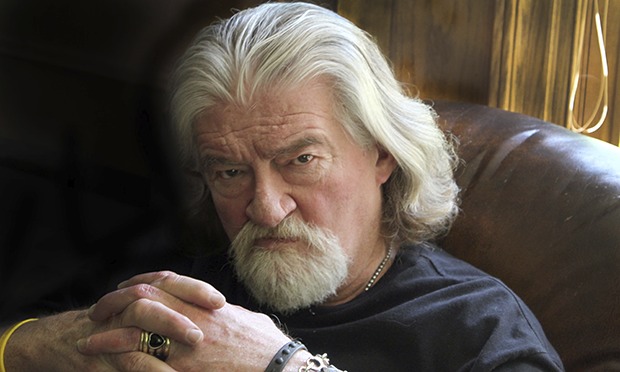 The $26 Million Dollar Man Himself
Today? For sure, it ain't like that. The studios, each of whom has been acquired by ginormous multinational corporations, have bent their business practices to the bean counters. Their obsession is more with franchises and repurposing preexisting intellectual property.
However the spec market, while not nearly at the level it was when Eszterhas was stomping around the corner of Santa Monica Boulevard and Wilshire, yelling invectives at CAA — he didn't actually do that, just wrote an infamous letter which was faxed around town — is still a thing. Every year, a significant number of writers sell or option spec scripts, many of them outsiders using it as a way to break into the business. Even if a spec doesn't sell, it can act as a writing sample which gets the writer representation, meetings, and possibly open writing assignments.
Plus there's this: There are a lot more buyers around today than there were in the early to mid-90s. And many more platforms for scripted entertainment including Netflix, Hulu, Amazon, YouTube and the like.
So while we can't expect to jot down "Boy meets girl" on a napkin over lunch with a studio exec and have them whip out the corporate checkbook, inking in seven figures before we've had a chance to digest our kale and quinoa… but a spec script still is a powerful tool.
If you need a reminder of that fact, you need look no further than Joe Eszterhas.
For the rest of the Den Of Geek article, go here.