April 20th, 2014 by
Scott
This is the fifth year in a row I've run this series in April.
Today's story: 7 tips for keeping your man (from the 1950s).
Woman, you have no idea how lucky you are to have landed a man. But as the literature of the mid-century's greatest matrimonial minds tells us, he's one wrinkled shirt away from leaving you. Eyes open and mouth shut ladies. It's about to get real.

1. Don't talk
Oh, did Mavis from next door insult your prize winning squash? Did little Timmy get sent home for starting fires again? That shooting pain in your left arm just keeps getting more intense? Keep it to yourself! Your man works all through his day and last thing he needs to hear about is yours. Refer to the first four commandments on "How to be a Good Wife" Edward Podolsky gives in his 1943 book, Sex Today in Wedded Life:

Don't bother your husband with petty troubles and complaints when he comes home from work.

Be a good listener. Let him tell you his troubles; yours will seem trivial in comparison.

Remember your most important job is to build up and maintain his ego (which gets bruised plenty in business). Morale is a woman's business.

Let him relax before dinner. Discuss family problems after the inner man has been satisfied.

In his 1951 book, Sex Satisfaction and Happy Marriage, Reverend Alfred Henry Tyrer has more to add to that. Do not ask for things. This is called "nagging":

I verily believe that the happiness of homes is destroyed more frequently by the habit of nagging than by any other one. A man may stand that sort of thing (nagging) for a long time, but the chances are against his standing it permanently. If he needs peace to make life bearable, he will have to look for it elsewhere than in his own house. And it is quite likely that he will look.

Unless your husband wants you to talk. Then don't you dare disappoint him. Says Reverend Tyrer:

"If [the husband] is intellectually inclined, and from time to time seeks to explain little things to her so that she may have at least a bare knowledge of what it is that interests him, and, without the slightest comment, she takes up again the fashion magazine she laid down when he commenced to speak, we may be pretty sure that there is going to be a 'rift in the lute' sooner or later in that house."

—-

3. Be the hot steak, not the cheap pork

Speaking of cooking, Reverend Tyrer has a metaphor for you.

Picture a woman preparing a fine meal for her husband. "She remembered his choice of meat and was careful to get an extra-fine cut…her best cutlery and dishes and finest linen are all in evidence, and a little colorful decoration has been tastefully displayed….and as he comes into the house she greets him with a smile of welcome and a touch of manifest love." Now, say that linen was a bed sheet, the colorful little decoration was fuzzy handcuffs, and you had the privilege of being that extra fine cut of meat. What does all that equal? A husband who doesn't cheat on you!

But say that same wife "is constantly setting him down to indigestible meals, cold and unappetizing, with nothing properly cooked, set out on a kitchen table with a dirty cloth, she need not be surprised if her husband frequently telephones from the office that business will prevent him from being home for dinner."

All because you weren't properly cooked when he was hungry!

—-

5. Pink panties are a must

And while we're on the subject of you performing convincingly in the boudoir, you better be costumed correctly, too.

That the underwear should be spotlessly clean goes without saying, but every woman should wear the best quality underwear that she can afford. And the color should be preferably pink. And lace and ruffles, I am sorry to say, add to the attractiveness of underwear, and are liked by the average man.

—-

7. Your husband is the boss of you

It is fitting to close with a simple truism from the renowned Eugenicist Prof. B.G. Jefferis, in his Searchlights on Health, The Science of Eugenics:

The Number One Rule. Reverence Your Husband. He sustains by God's order a position of dignity as head of a family, head of the woman. Any breaking down of this order indicates a mistake in the union, or a digression from duty.

Stop talking, slap on some pink drawers, and start worshipping!
Pleasantville (1998) — "Two 1990s teenagers find themselves in a 1950s sitcom where their influence begins to profoundly change that complacent world" — probably negates transposing an ardent feminist back in time. However what about something in the other direction: Three 1950s couples suddenly find themselves in the year 2015. Do they go from this: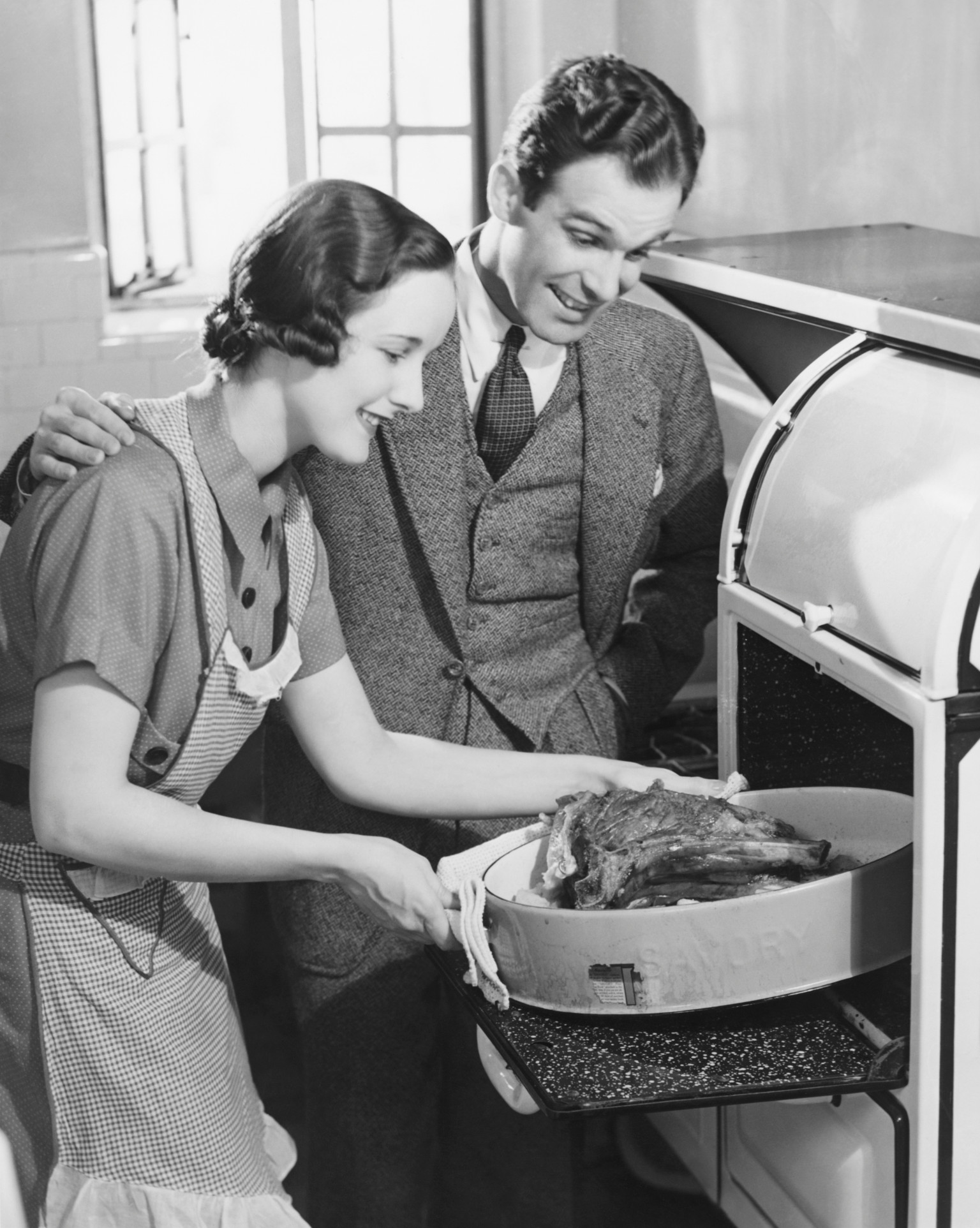 To this:
Create a laundry list of issues a couple faces — money, cooking, work, chores, sex — and explore a bunch of set pieces and scenes you can put the couples in to have some fun with various conventions.
Some adjust. Some resist. Perhaps some contemporary characters get affected by 1950s sensibilities. Maybe something there…
There you go: My twentieth story idea for the month. And it's yours. Free!
What would you do with it?
Each day this month, I invite you to join me in comments to do some brainstorming. Gender bend, genre bend, what if. Take each day's story idea and see what it can become when we play around with it. These are all valuable skills for a writer to develop.
See you in comments (hit Reply to join the conversation). And come back tomorrow for another Story Idea Each Day For A Month.