October 10th, 2016 by
Scott
October is classic international movies month. Today's guest post comes from Clay Mitchell.
Movie Title: Akira
Year: 1988 (Japan)
Writers: Screenplay by Katsuhiro Ôtomo and Izo Hashimoto (based on the manga by Katsuhiro Ôtomo)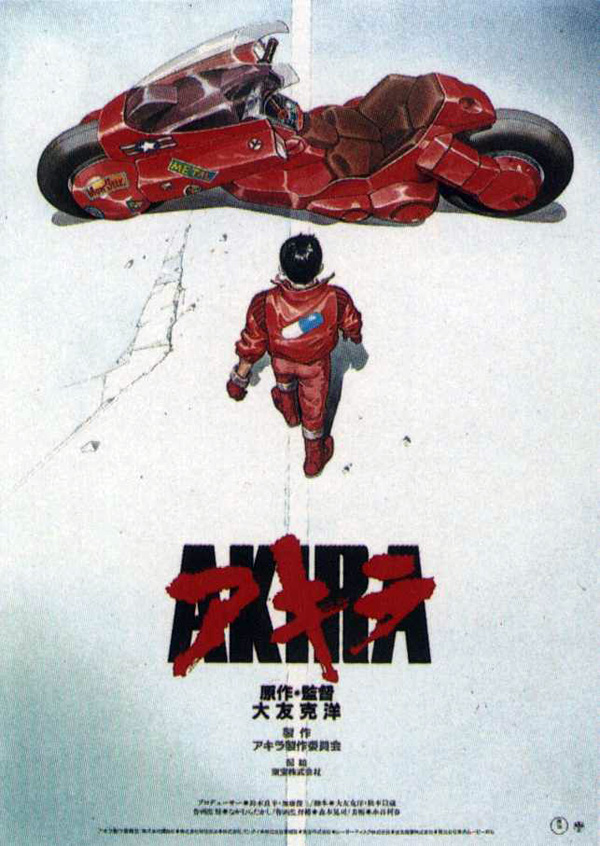 Lead Actors: Mitsu Iwata, Nozomu Sasaki, Mami Koyama, Taro Ishida, Tetsusho Genda, Mizuho Suzuki (original Japanese version. There are two dubbed versions with a different set of voice actors in each.)
Director: Katsuhiro Ôtomo (listed as supervising director)
IMDb Plot Summary: A secret military project endangers Neo-Tokyo when it turns a biker gang member into a rampaging psychic psychopath that only two teenagers and a group of psychics can stop.
Why I Think This Is A Classic International Movie
It's a cyberpunk dystopian movie which has impacted and influenced music, film and television since its release (THE MATRIX, LOOPER, CHRONICLE, STRANGER THINGS). AKIRA launches us immediately into a world of a colorful bright future coupled with the grimy dark alleyways we are familiar with because we have seen that influence. AKIRA takes risks in showing us that world and it make no apologies and does not dumb down the scope of the story.
My Favorite Moment(s) In The Movie
Kaneda's bike.
Kaneda's bike slide.
The bar scene. It really augments the duality of the bright future coupled with the dystopian landscape.
My Favorite Dialogue In the Movie
Tetsuo: Keneda, you've always been a pain in the ass. You've been telling me what to do ever since we were kids. You always treat me like a kid. You always show up and start bossing me around.
Keneda: And now you're a boss, too… of this pile of rubble.
Tetsuo: Kaneda!
Keneda: That's Mister Kaneda to you, punk!
Key Things You Should Look (Listen) For When Watching This Movie
It may be difficult to see this, but the Japanese dialogue of AKIRA was recorded before the animation was completed. So, the animation was drawn to match dialogue instead of having the dialogue to match the animation. This is unusual for Japanese films at the time, but is common for Western animated films.
The music was also completed before the movie was completed. So, most of the music had to be edited to fit the scenes.
The film has over 2,100 shots, which is double of most animated films. More than 350 different colors were used in the film. I read somewhere most current animated films use around 50 or so. The films was also shot at 24 frames per second.
Trivia
The comic was originally released as a black and white serial. It was later collected and colored for a graphic novel release to coincide with the feature film release, including one by Marvel in the United States. The release of AKIRA as a graphic novel came in the same wave as Alan Moore's WATCHMEN and Frank Miller's BATMAN RETURNS. The popularity of the AKIRA graphic novel led another wave of translated mangas in the West.
Makiko Futaki was one of about 60 animators who worked on AKIRA. Her name isn't a household name, but she was the lead animator at Studio Ghibli.
AKIRA was a big-budget animated movie for its time, costing about $10 million (SPIRITED AWAY set a new record with its $19 million budget), and it was made without a big-name animator or animation studio… and without a big-name star attached to the film. To compare… Disney's OLIVER AND COMPANY was released the same year with a budget of $4 million.
The live-action version of this movie has languished in development hell since the 1990s. Actors Joseph Gordon-Levitt and Zac Efron were once attached to various iterations of the project. Leonardo DiCaprio owns the film rights through his production company. Script drafts by Gary Whitta (BOOK OF ELI) and Mark Fergus and Hawk Ostby (CHILDREN OF MEN) are among the ones floated around. Production offices were even set up in 2012 in Vancouver before it was shut down by Warners.
The movie takes place in 2019 after World War III in Neo-Tokyo. An Olympic stadium is being built in preparation for hosting the Olympic games. Japan is actually hosting the summer games in 2020.
Thanks, Clay!
To show our gratitude for your guest post, here's a dash of creative juju for you. Whoosh!
We already have a set of classic 30s movies, 40s movies, 5os movies, 60s Movies, 70s movies, 80s Movies and 90s Movies. This month, we're working on classic international movies. And thanks to the GITS community, we've got at least 22 movies in the works and hopefully more!
Those who I put in bold have already sent me their posts. If you haven't sent yours to me, please do so as soon as you can!!!
A Prophet – Paul Graunke
Akira – Clay Mitchell
Amelie – Kevin Curran
Belle Epoque – Melinda Mahaffey
Cinema Paradiso – Traci Nell Peterson
Diabolique – Sherin Nicole
Jules et Jim – Susan Winchell
Kolya – Melinda Mahaffey
Lady Vengeance – David Joyner
Millennium Actress – Chris Neumann
OSS 117: Cairo, Nest of Spies – John Henderson
Reprise – Wally Marzano-Lesnevich
Seven Samurai – Will King
The Lives of Others – PaulG
The Tenant – Marija Nielsen
This Man Must Die – Marija Nielsen
Looking for more volunteers, your chance to memorialize your favorite international movie and yourself as a contributor to our ongoing blog series on classic movies.