April 28th, 2016 by
Scott
This article from the blog Literary Hub, written by Dana Cann, popped up at the Zero Draft Thirty Facebook group the other day which was interesting timing because this very subject has come up in conversation with some of the graduating seniors I've been teaching at the university for the last two years: As they head off to Los Angeles to break into the business, what type of job would most lend itself to writing? An excerpt from the blog:
When I turned 30, I took my first short story workshop. I was working in commercial banking, a career I fell into with indifference followed by inertia after graduating from college. I was also playing in a DC men's soccer league on a team largely populated by Capitol Hill staffers and other professional types. We were a clean-cut group of guys, except Frank, our reckless goalie, who had a mane of wavy hair that fell to his shoulders. Soccer hair, we'd called it in high school. It turned out that Frank was a carpenter. His paying work was home renovations, but his passion was building cabinets, which he described the way artists described their work—with reverence for the process and awe and wonder for the finished piece.

—-

Frank was a craftsman when it came to his cabinets. He designed them, built them, and finished them. Each piece was unique. I envied his focus and I envied his freedom, which, to me, was most apparent in his long hair and his ability to get away with it in a staid town like Washington, DC, in the early 1990s, the end of the George H.W. Bush Administration.

The spring soccer season ended, and we had a soccer-free summer. I continued to work at the bank, and I took another short story workshop and wrote new, crappy stories.

When the team reconvened in fall, Frank had cut his hair. He'd gotten a job. Nine-to-five. He was one of us. Why, we asked, money?

He assured us that wasn't it; he could make a decent living in home renovations, but found the work too similar to his passion—building cabinets. Both required working with tools and wood. It had seemed a natural fit, a decent way to fund an artistic pursuit. But it didn't work for Frank: after a full day on a job site his energy for cabinet making had been sapped. It occurred to me that the issue could have been partly physical—carpentry isn't a sedentary occupation, after all—but that wasn't the way Frank explained it. He'd been mentally exhausted, which impaired his ability to take up tools in his free time and work on things that mattered.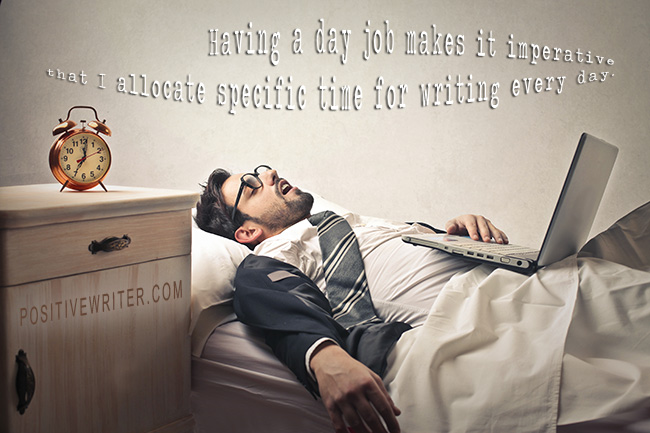 By analogy, would getting a job reading scripts all day or doing some form of writing could sap a writer's creative energy. I was reminded of the subject coming up in interviews I've done with writers who were trying to go from aspiring writer to pro writer. For example, Stephanie Shannon (2013 Nicholl, 2013 Black List) was an assistant to a literary manager in New York, but requested a transfer to the Los Angeles office:
Scott: When did you start picking up the screenwriting again in that process? Was it when you went to Los Angeles?

Stephanie: When I got out here I decided I wanted to give it a real shot, because I hadn't allowed myself to before. Ever since I graduated college I had kind of put it out of my mind as something that I couldn't realistically do. I was afraid that if I really tried to go for it, I wouldn't be able to, that I would prove to myself that I couldn't do it. That was just a fear of mine, I think.

When I got out here I was like, "I'm going to be 28. I need to do it now if I'm going to do it." I started talking to some friends in the industry who put me in touch with their writer friends. So I started setting up coffees with several TV writers. They were all so gracious to meet with me and give me advice. It was really eye opening to talk to so many people who were my age who had made it as professional writers. I thought, "Wow, this is really possible."

I made a promise to myself that I would write a screenplay that year and enter the Nicholl. This was around November of last year. I started researching in December. Then I started writing in February.

Scott: Assistant gigs, from everything I've heard, a great way to learn the business, but they're notoriously challenging, especially hours. How did you carve out time to write?

Stephanie: I just became really singularly focused. I was determined I wasn't going to let another year go by without finishing a feature. I told myself there was no way I was going to miss the Nicholl deadline. I have never been more determined to do anything in my life.

It was a pretty isolating time for me, though. I'd work all day as an assistant, I'd get home at night, and I would write. I'd wake up and work a little in the morning, then go to work. Sometimes I'd just pull out my laptop and write at my desk while answering phones, or in my boss' office while he was out at lunch. Then on Fridays I would go home after work, and I wouldn't really reemerge until Monday. I was so into the story that it didn't feel like I was torturing myself. I was excited, and I looked forward to working on it, which was a really great feeling.
It's possible to work a strenuous, time-consuming job in the entertainment business and write, but like Stephanie you have to set a goal and be serious-minded about your productivity.
On the other hand, there's a lot to be said for working at something unrelated to the business and not directly involved with writing. For example, Michael Werwie (2012 Nicholl, 2012 Black List) found what he described as the perfect job:
Scott:  Is that how you segued into a lengthy stint as a bartender?

Michael:  Yeah, once I graduated I took a job bartending, and I bartended for nearly 10 years.

Scott:  That was in L.A.?

Michael:  Yes, West Hollywood. I was at one place for the entire duration of its run, from day one until the last day, called O-Bar. Then that closed and I went to another place not too far away.

Scott:   How has bartending fit into your writing schedule?

Michael:  Bartending couldn't have been a more perfect fit. I had my days completely free and I used that time to write. I'd wake up, eat breakfast, and write, and that just became a discipline, to the point where if I skipped it or didn't have time to do it for whatever reason, it felt strange. I would do that every day, and would also take meetings, if and when I had those (which were few and far between for many, many years). Bartending allowed me to make the most money while working the fewest hours. It was a good balance because I could treat writing like a full‑time job and still pay the bills.
Plus all that great dialogue you can 'borrow' courtesy the customers!
So I'm curious what your thoughts are: What do you think would be the best day job for a writer? By the way, I've known plenty of writers who after selling a spec script and landing a couple of writing assignments, still kept their day job until they were firmly established in Hollywood, therefore the question isn't just for aspiring writers.
Click Reply and hit me up in comments with your thoughts on what would be an ideal day job for writing.
HT to Jack Raymond for the link to the Literary Hub article.