September 9th, 2016 by
Scott
justwrite7 posed a question: "How does one balance character and plot in a plot-driven script," in particular for the action genre. That goes straight to the oft-repeated conundrum: character or plot, when it should probably go plot from character. But before we go there, let's start with one of the great icons of action-dramas Clint Eastwood.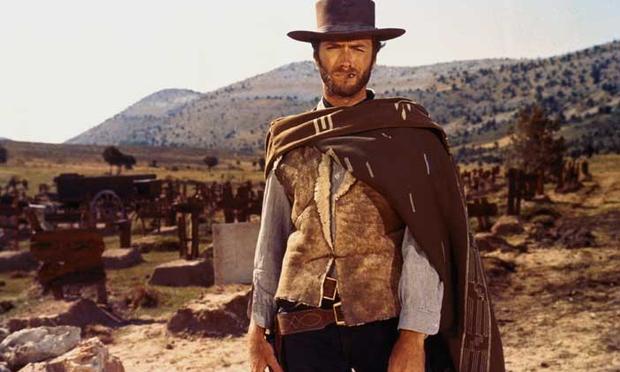 You hear a lot of stories about Eastwood in Hollywood. It's been said that whenever he reads a script in preparation for an acting gig, his favorite tool is a red pen, as he trims (red-lines) dialogue, sometimes by as much as half. That would suggest he's less interested in character, right?
Well, how about this story, which may or may not be true as I've never seen the supposed movie in question to verify it (maybe someone here has). As the story goes, Clint was making one of those spaghetti westerns he shot in Italy in the mid-6os, one in which he played a ruthless gunman. Opening scene: A long shot of Clint atop his horse, riding through parched terrain. Finally reaches a watering hole, revealing both he and his horse are covered with dust — they've been riding a long time. Stiff, Clint works his way off the horse and makes for the water. His lips parched and cracked, he takes off his hat and scoops it into the cool, clear water, raises the hat… then holds it out so the horse can drink first.
Now tell me that Clint doesn't know a thing or two about character. He's a bad guy in the movie, but he knows very well the viewer has to connect with the character in some way. What better gesture than for Clint's character to extend this kindness to his horse? Talk about instant sympathy! And he pulls it off without any dialogue.
What's my point? If readers are saying they "want more character," a writer should not confuse that to mean, "I need to spend more time letting my characters talk about their feelings." As justwrite7 says, "The problem with my exposition is that it always sounds like exposition." That's not just your problem; it's a universal issue because exposition is basically information and facts, which is why one of my writing mantras is, "Exposition = Death." As the story about Clint demonstrates, it is possible for a character to express aspects of their persona through actions.
Let me zero in with this question: is the critique from your readers about all your characters or is it mostly / usually about the Protagonist? It could be that you need to dig a bit deeper into all your characters, then expose a bit more of them on the page. However, I suspect the issue may be primarily with your Protagonist.
The Protagonist is almost always the single most important character in a movie. They are the character who typically goes through the biggest personal transformation, the most difficult challenges, more often than not confronting a Nemesis character. Not only that, one of the Protagonist's key functions from a storytelling perspective is they are the conduit for a reader to enter into the narrative, the 'eyes' through which the reader 'sees' the events of the story as they unfold. So when I hear a comment like, "The story needs more character depth" or "It feels episodic," the problem can be that the reader simply doesn't care enough about the story's Protagonist.
One of a screenwriters primary goals is to get the reader to become emotionally in the Protagonist. And in an action script, it's almost always a requisite that the reader feel sympathy, or at least empathy for the Protagonist.
Therefore, it's critical for the writer to dig into the psychological life of their characters, especially the Protagonist, their Internal World which is comprised of emotions, feelings, memories, needs, patterns of behavior, defense mechanisms, truths, half-truths, lies, and so forth.
A writer needs to source as much of that as possible in order to understand the character, but that does not mean, particularly for an action movie, you have to blurt all of that psychological 'stuff' in the story. Rather, look for key dynamics, especially archetypal elements at work.
We already talked about Iron Man, a good superhero-action movie, so let's look at that story's Protagonist figure, Tony Stark, played by Robert Downey Jr. What do we learn about Tony through that 'newsreel' upfront? That his father was a titan of the business community, founding Stark Enterprises, a company that developed, manufactured, and sold weapons. That young Tony was a whiz with electronics, mechanical engineering, and computers at a very early age. That Tony was accepted to MIT when he 15 and graduated at the top of his class. And that he inherited Stark Enterprises when his father died unexpectedly.
Okay, based upon that raw data, let's explore some possibilities of what might be going on in Tony's Internal World. First, why did Tony excel at electronics, machinery, and computers so young? Perhaps that instinct is in his genes. Or isn't it also feasible that young Tony pushed himself to excel in order to gain his father's praise, perhaps even his father's attention? Being the President and CEO of an international corporation, it seems likely Tony's father was away a good bit of the time, maybe one of those businessmen who had little time for his family. In any event, his father's shadow fell deeply and darkly across young Tony and was a contributing factor to who he became.
And what has he become when we first meet him in the movie? He jet-sets around the world. He is cocksure about everything he does. He is impulsive. He is a pleasure-seeker, especially when it comes to women, and a thrill-seeker as well. He is always on the go and perpetually behind schedule due to his self-consumption. He is a driven businessman, relishing and enjoying the most extreme perks as he travels through life.
That's all what see through his actions and hear through his dialogue in the External World. But how might we interpret what is going on in Tony's Internal World as an adult? In my view, I think Tony is a deeply conflicted person who is struggling to repress feelings of loss, anger, and guilt about his father: loss that his father is dead, perhaps even a deeper loss that his father was never much there for Tony when he was a boy and growing up; anger over his father leaving Tony with his father's legacy, the business; and guilt about feeling anger toward his father.
I suspect Tony has a love-hate relationship with his father just as it turns out he has a love-hate relationship with Stark Enterprises. And I don't think it's a stretch to look at Tony's seemingly ego-maniacal, pleasure and thrill-seeking behavior as simply his ongoing attempts to avoid dealing with his internal conflicts.
Oh, Scott, you've gone way too far with this psycho-babble take! Perhaps I have gone overboard. But puzzle me this: if Tony isn't a deeply conflicted person 'inside', at least having some measure of antipathy toward making weapons, how is it that he switches world views from 'hawk' to 'dove' on a dime? Sure, he was kidnapped, he bonded with Yinsen, but the seeds of those experiences and Yinsen's 'wisdom' have to find some receptive 'soil' in which to grow. I don't think it's a stretch to suggest that the makings of Tony's turnaround were already 'inside' him as a result of the experiences of his youth and growing up.
If you don't buy my argument, at least suspend your skepticism and allow me to run with my thesis one step further to ask — so what is "Iron Man?" In my view, the symbolic and 'emotional' meaning of Tony inside the Iron Man suit is about synthesis, Tony's attempt, even if he's not aware of it consciously, to reconcile with his father — the Iron Man suit symbolically Tony's father and Tony inside symbolically his young child-self.
How convenient because at the end of the story, when he goes against orders and announces, "I am Iron Man," isn't he claiming that synthesis? But there is still a tension: can he use violence, the means of his father, to counteract violence, as opposed to his initial turnaround response, which was to stop making weapons? That's a nice tension to have for the umpteen sequels we'll doubtless see from this smash-hit franchise.
So we've gone from Clint Eastwood to Iron Man and what have we learned? Perhaps that I'm full of it! Setting aside my specific analysis of Iron Man, two things: (1) Dig deeper into your characters, most especially your Protagonist, making sure that you do what you can to get the reader emotionally invested in them; (2) When digging around your Protagonist's Internal World, look for core psychological and emotional dynamics, not so much the events that may have happened to them, i.e., their father died unexpectedly, but rather the Protagonist's key responses to those events. If you can zero in on those deep, underlying emotional strains at work in the Protagonist's inner psyche, you will likely find what you need to give your script "more character."
[Originally posted May 21, 2008]