November 30th, 2013 by
Scott
As we wrap up a week's worth of Daily Dialogue posts featuring the theme of Forgiveness (thanks to churnage for that call), next week's theme is another F-word: FEAR! Suggested by sutinderbola.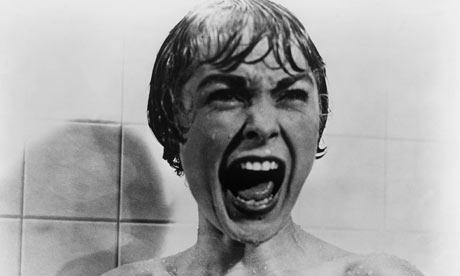 Shower, anyone?
Okay, there are literally thousands of memorable movie moments featuring fear. The challenge will be to find some where the dialogue is not simply "AHHHHHHHHHHH!" or "EEEEEEEEEEEEEEKKKKKK!" But I have faith in the GITS community! The Daily Dialogue Denizens are a hearty crew with terabytes of movie scenes zipping along in our collective hard drives.
Let's find some kick-ass fear-themed movie moments featuring some memorable dialogue!
The usual drill:
* Copy/paste dialogue from IMDB Quotes or some other transcript source.
* Copy/paste the URL of an accompanying video from YouTube or some other video source.
I'd also ask you to think about why the dialogue is notable. Is there anything about the dialogue which provides some takeaway re screenwriting?
Here is our lineup for upcoming Daily Dialogue themes:
December 9-December 15: Parental Advice [David Proenza]
December 16-December 22: Awkward [SabinaGiado]
December 23-December 29: Christmas
December 30-January 5: New Year
January 6-January 12: Explain the Mission [Shaula Evans]
January 13-January 19: The Boss [kevinpgoulet]
January 20-January 26: Rescue [Despina]
January 27-February 2: Directions [brettonzinger]
See you in comments with your suggestions for movie scenes featuring FEAR!