June 24th, 2014 by
Scott
For those of you perhaps unfamiliar with the work of Joseph Campbell, his seminal book "The Hero With a Thousand Faces," and how his articulation of the narrative archetype The Hero's Journey became so popular, including in Hollywood, an article in Pacific Standard, an online magazine, is a good place to start.
While several factors deserve credit for Star Wars' ongoing popularity—the ballet-like lightsaber duels, the roguish charm of Harrison Ford's Han Solo, the massive amounts of toy merchandising—it's quite possible that the space opera's greatest strength lies in its reliance upon the work of American mythologist Joseph Campbell.

For those who care about such things, the link between Star Wars creator George Lucas and Joseph Campbell, especially his 1949 book The Hero With a Thousand Faces, is well known. During an award ceremony in 1985, after the original Star Wars trilogy had already seared itself onto the pop-culture collective consciousness, Lucas, in reference to Campbell, admitted, "If it hadn't been for him, it's possible I would still be trying to write Star Wars today."
I first studied Joseph Campbell as an undergraduate at the University of Virginia in the honors program at the Department of Religious Studies, so when I first made the rounds of studio executive offices in Hollywood, I was amazed to see copies of "The Hero With a Thousand Faces" in their bookshelves. What in the dickens was an academic book doing here?
In the mid '80s, a Hollywood executive named Christopher Vogler summarized Campbell's ideas, which borrow from the work of Carl Jung, James Joyce, and the anthropologist Sir James George Frazer, into a seven-page memo titled "A Practical Guide to The Hero With a Thousand Faces." It begins by stating that Campbell's book very well may become one of the most influential texts of the 20th century, and ends by claiming that the Monomyth, with its infinite flexibility, will "outlive us all." Vogler gave his memo to executives at Disney (who now own the rights to both Star Wars and Marvel's treasure chest of comic book superheroes) before winding up working on The Lion King—yet another widely adored film that leans heavily upon Campbell's template. Eventually, Vogler turned his now-legendary document into a popular screenwriter's guide titled The Writer's Journey: Mythic Structure for Writers. This helped spread the gospel of Campbell even further.
I was introduced to Vogler when he made a presentation at the WGA in 1988. "The Writer's Journey" is one of a handful of books on screenwriting and storytelling I recommend as he does a good job of distilling Campbell's ideas into a form that is directly relevant to movies and TV. Perhaps too relevant.
So here's a question: Will we ever see an end to Campbell's hand in the stories we tell? Will the Monomyth ever become irrelevant or meet its own extinction due to overuse? While no sensible person would ever claim that the Hero's Journey (another name for it) is the only form of narrative on the market, the model has proven indisputably pervasive, undeniably powerful, and irrefutably profitable. But is it inescapable, too?
Which leads to the question posed by the article's title: Are all movie heroes the same person?
We can look at that question from a Campbellian perspective, underscoring the prevalence of similarities between hero types across narrative and cultural platforms. Or we can look at it the way I did in a blog post from January 2012:
I bring up Campbell because the other day, I posted this question: Why are there so many Protagonist orphans? It spawned a wide-ranging conversation, ultimately leading to Joseph Campbell. At some point in the thread of comments, TripDreamer posted this:

Killer Films producer David Kaplan made a comment on twitter denouncing Campbell. I asked him why and he told me that 90% of the scripts he reads follow the same formula and this, he insinuated, made them flat and, well, formulaic. These books can only give you so much guidance, it's up to us to inject soul, heart, voice, and identity into a story.

I thanked TripDreamer for posting that, even though it pained me to read it. Not that I doubt Kaplan's assessment as I've read far too many scripts of the ilk he describes as well. However to come to a situation where someone would associate the words "formulaic" and "flat" with Joseph Campbell seems to me… well, almost blasphemous.
This is the problem: People who take the 12 stages of The Hero's Journey as articulated in Vogler's book and elsewhere, and use them as a formula. I mean seriously, does this guy look like he would traffic in a mundane, simplistic formula?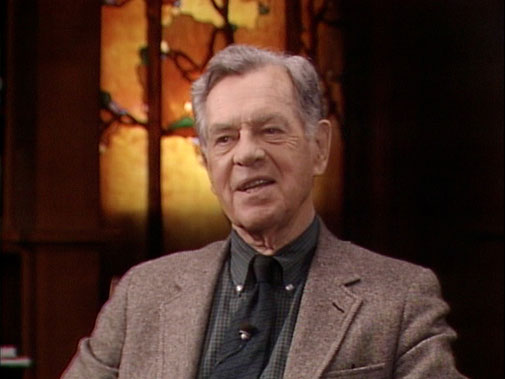 In fact, I spoke to this concern about turning The Hero's Journey into a formula at length in that 2012 post, so let me quote from that:
Therefore I thought I would attempt this week to open the door just a bit to a wider appreciation of Joseph Campbell by spotlighting some memorable quotes of his I have picked up along the way. Here's the first one:

"What each must seek in his life never was on land or sea. It is something out of his own unique potentiality for experience, something that never has been and never could have been experienced by anyone else."

The beauty of so many of Campbell's observations is they not only have meaning for us personally in our own lives, but also as writers. How? By making the subject of the quote the Protagonist of our story.

"What each Protagonist must seek in his/her life never was on land or sea. It is something out of the Protagonist's own unique potentiality for experience, something that never has been and never could have been experienced by anyone other than the Protagonist."

Let's parse this further by looking at the first line as referring to the External World of the story universe, the realm of action and dialogue.

The second line then refers to the Internal World of the story universe, subtext and intention, emotions and feelings. In other words the "unique potentiality for experience" is that which lies within the Protagonist.

Looked at this way, we can see how wrong-headed it is to conceive of The Hero's Journey as being primarily about twelve stages in the External World. Sure, you can write a script like that, but more than likely it will come off as "formulaic" and "flat" because the story is lacking the single most important element of all: Psychological meaning.

Everything that happens in the Plotline must be tied intimately and directly to the Protagonist's "unique potentiality for experience." Indeed it's not a stretch to assert that for Campbell, that is the whole point of The Hero's Journey: For the Hero Within that has always been inside the Protagonist as potential to emerge into the Light. Which is to suggest the events of the Plotline service the grand story of metamorphosis (or to use Campbell's preferred term transformation).

A battle is a battle. A sword is a sword. A death is a death. It is only through the meaning attached to those events precisely because of the Protagonist's "unique potentiality for experience" that a story means any bloody thing at all. Otherwise it's just noise.

To speak metaphorically — which Joseph Campbell would approve wholeheartedly! — screenwriters who use The Hero's Journey merely as a pattern to structure their story's Plotline and nothing more, they are seeking life on "land or sea," when in fact the real life, the animating life of a story exists beyond that which we can see and touch, it dwells in the Internal World of the Protagonist and other character's "unique potentiality."

If you want to write scripts that land on a producer's desk that come off as "formulaic" and "flat," then stick to the realm of "land or sea."

If you want to write scripts that come alive in the imaginations of readers, the words lifting up off the page and emerging as a movie in their minds-eye, go into your story's Internal World, go into your Characters, go into your Protagonist and find the "unique potentiality" that exists there.
Please, do your Creative Self a favor… and do studio executives, producers and eventually movie lovers a favor, too: Do not approach The Hero's Journey as a formula. Campbell never intended it to be used that way. And I feel confident from my reading of Vogler's book that neither does he.
Use it for insight. Use it for inspiration. Use it as a tool to develop your story. As far as I'm concerned, the two most important aspects of The Hero's Journey as it relates to screenwriting are these:
* The general arc of Story is in three parts: Separation, Initiation, Return.
* The point of The Hero's Journey is this: Transformation.
There's a lot more to be gained from studying Campbell, of course, but taking this meta view is the surest way you have of avoiding turning his work into a screenplay formula… and pissing off more Hollywood execs and making for repetitive movies.
For more inspiration, here are some posts I did featuring some Campbell quotes:
"Every myth is psychologically symbolic."
"Where you stumble, there lies your treasure."
"We must be willing to get rid of the life we've planned."
"All the gods are within you."
To read the rest of the Pacific Standard article, go here.