March 22nd, 2015 by
Scott
The cult classic Repo Man (1984), written and directed by Alex Cos, has many memorable scenes. I want to feature the final scene in the movie, but in order to do that, we need to consider two earlier ones. First, there is the introduction of a mysterious car:
"What you got in the trunk?"
"Oh… you don't want to look in there."
Reminds you of the briefcase in Pulp Fiction: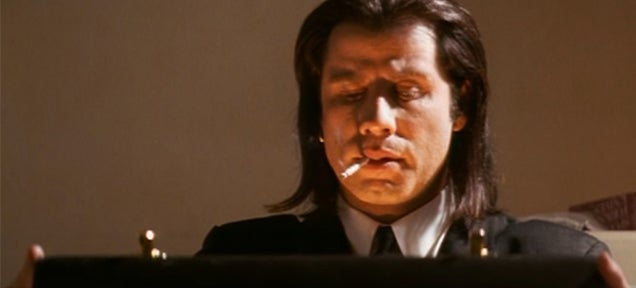 The car eventually ends up in the possession of some repo men including Otto (Emilio Estevez), new to the trade, and Miller (Tracey Walter), who works at the repo center. In this scene, Miller shares some of his cockeyed world view with a highly skeptical Otto:
"The more you drive… the less intelligent you are."
Now the scene in question: The very end of the movie and the intersection of Miller, Otto… and the mysterious car:
"Life as a repo man is always intense."
Wonderful movie. If you haven't seen it, do yourself a favor: Watch Repo Man for these and other great scenes.
For the Great Scene archive, go here.